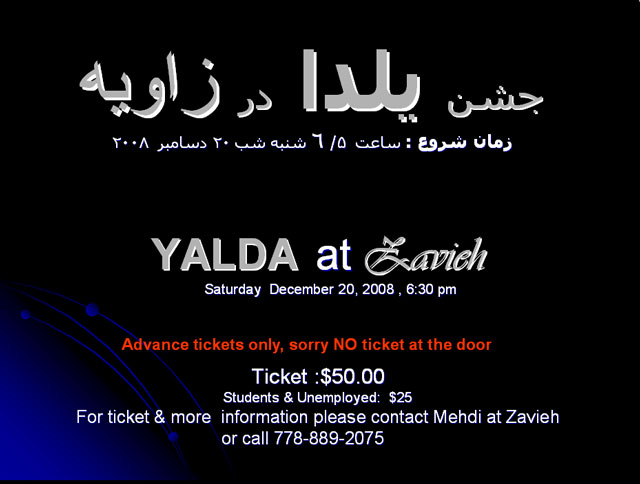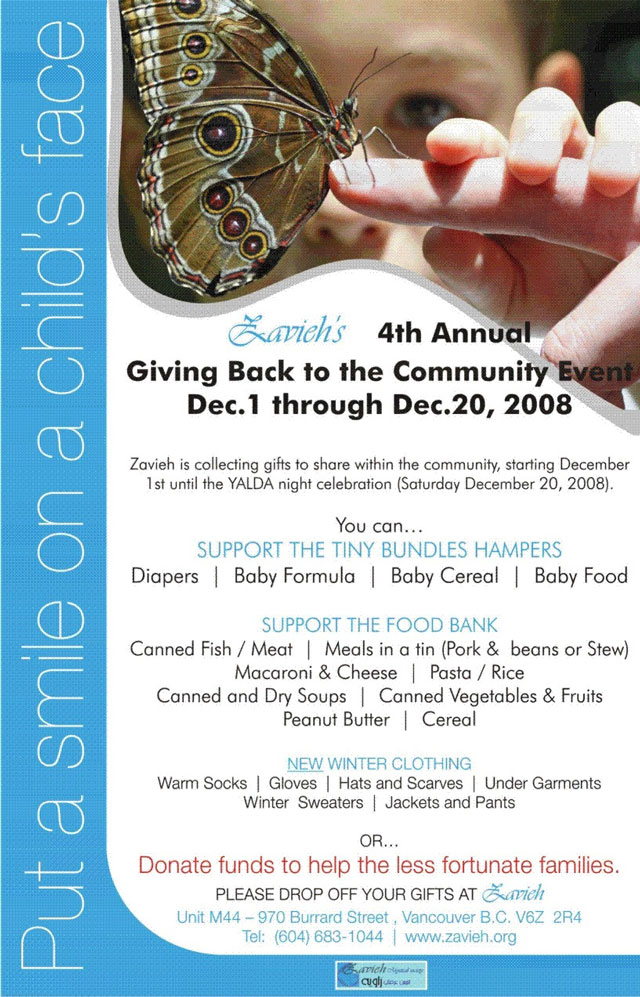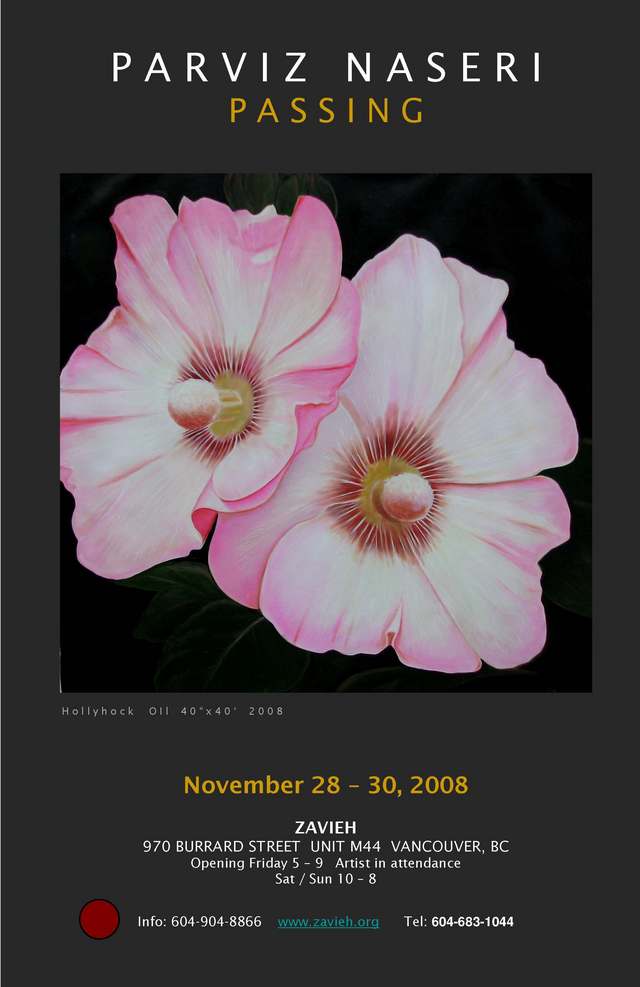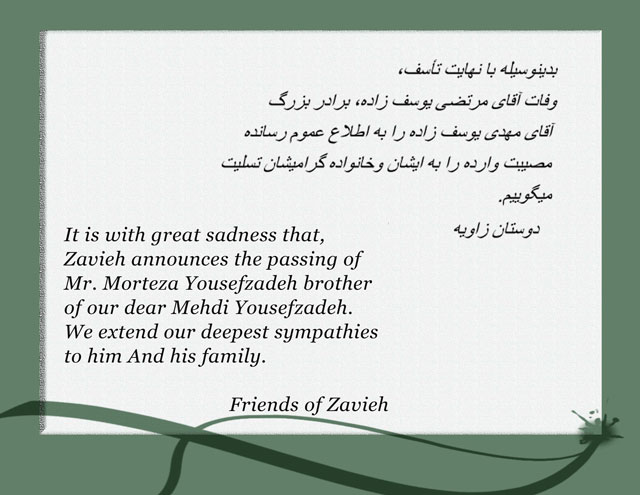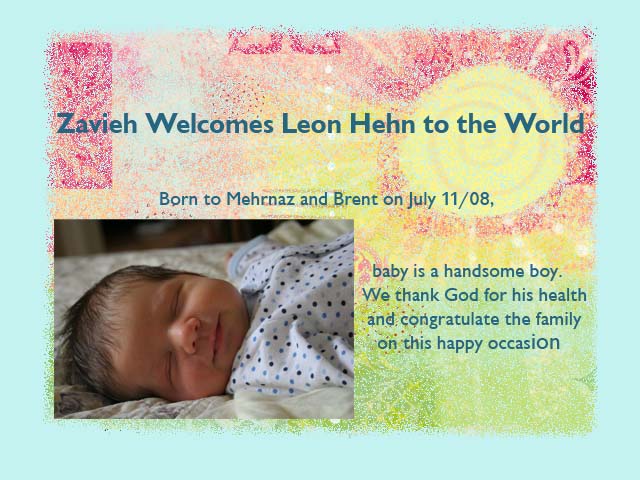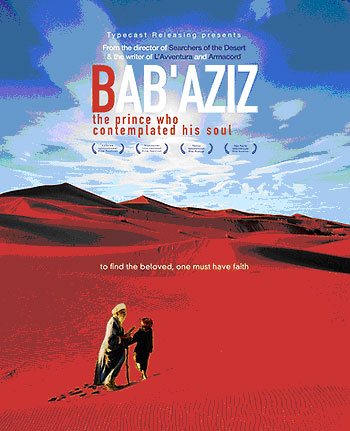 Arts Review at Zavieh
Sunday June 22, 2008
BAB'AZIZ - The Prince Who Contemplated His Soul
(2005)
Director: Nacer Khemir
A visual poem of incomparable beauty, this masterpiece from director Nacer Khemir (Wanderers of the Desert) begins with the story of a blind dervish named Bab'Aziz and his spirited granddaughter, Ishtar. Together they wander the desert in search of a great reunion of dervishes that takes place just once every thirty years. With faith as their only guide, the two journey for days through the expansive, barren landscape. To keep Ishtar entertained, Bab'Aziz relays the ancient tale of a prince who relinquished his realm in order to remain next to a small pool in the desert, staring into its depths while contemplating his soul. As the tale of the prince unfolds, the two encounter other travelers with stories of their own–including Osman, who longs for the beautiful woman he met at the bottom of a well, and Zaid, who searches for the ravishing young woman who fled from him after being seduced by his songs. Filled with breathtaking images and wonderful music, Nacer Khemir has created a fairytale-like story of longing and belonging, filmed in the enchanting and ever-shifting sandscapes of Tunisia and Iran.
Director Nacer Khemir's past cinematic achievements include his award-winning features "Les Baliseurs du Désert" (Wanderers of the Desert), awarded Grand Prix of the Festival des Trois Continents in 1984, and "Le Collier Perdu de la Colombe" (The Dove's Lost Necklace), which won the Special Jury Prize at Locarno in 1991. The script was written by Nacer Khemir with the participation of screenwriter Tonino Guerra (Amarcord, Night of the Shooting Stars, Blowup and L'Avventura).
When: Sunday June 22. 2008
Start: 3:30 PM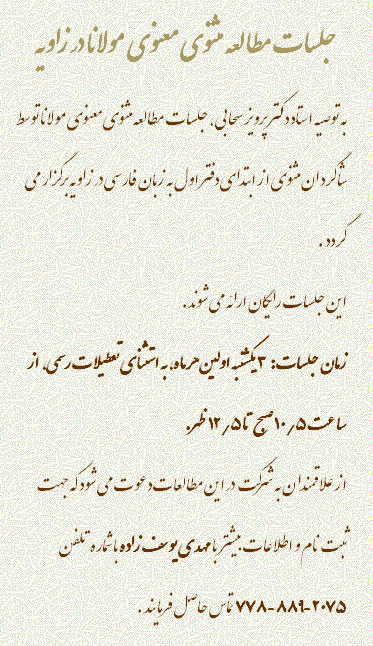 Rumi's Mathnawi Study sessions by the students of Mathnawi in Zavieh
Upon Dr.Sahabi's recommendation, the students of Rumi's Mathnawi gather and study Mathnawi in student group sessions in Farsi.
PLACE: Zavieh
TIME: The first 3 Sundays of each month, excluding the long weekends,
10:30 am to 12:30 pm.
For more information and registration please contact Mehdi at 778-889-2075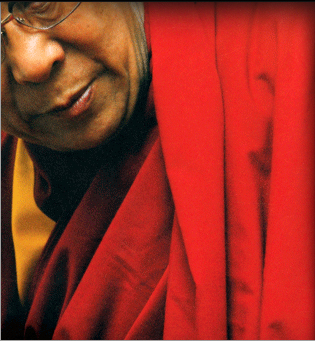 Arts Review at Zavieh
Sunday May, 25, 2008
10 QUESTIONS for the DALAI LAMA
(2006)
By: Rick Ray
How do you reconcile a commitment to non-violence when faced with violence? Why do the poor often seem happier than the rich? Must a society lose its traditions in order to move into the future? These are some of the questions posed to His Holiness the Dalai Lama by filmmaker and explorer Rick Ray. Ray examines some of the fundamental questions of our time by weaving together observations from his own journeys throughout India and the Middle East, and the wisdom of an extraordinary spiritual leader. This is his story, as told and filmed by Rick Ray during a private visit to his monastery in Dharamsala, India over the course of several months. Also included is rare historical footage as well as footage supplied by individuals who at great personal risk, filmed with hidden cameras within Tibet. Part biography, part philosophy, part adventure and part politics, "10 Questions for The Dalai Lama" conveys more than history and more than answers - it opens a window into the heart of an inspiring man. If you had only one hour, what would you ask?
When: Sunday May 25. 2008
Start: 3:30 PM

"Pangea Day at Zavieh"
Zavieh in Vancouver has been approved and registered as a private venue to host "Pangea Day". On Saturday May 10, 2008, the live global event will start at 11:00 am and we will be "linked" with millions of people around the world!
"Pangea from the Ancient Greek pan, meaning entire, and Gaea, meaning Earth was the super continent that existed during the Paleozoic and Mesozoic eras about 250 million years ago, before each of the component continents were separated into their current configuration."
What is Pangea Day?
"Pangea Day taps the power of film to strengthen tolerance and compassion while uniting millions of people to build a better future.
In a world where people are often divided by borders, difference, and conflict, it's easy to lose sight of what we all have in common. Pangea Day seeks to overcome that — to help people see themselves in others — through the power of film.
On May 10, 2008 — Pangea Day — sites in Cairo, Kigali, London, Los Angeles, Mumbai, and Rio de Janeiro will be linked live to produce a program of powerful films, visionary speakers, and uplifting music.
The program will be broadcast live to the world through the Internet, television, digital cinemas, and mobile phones.
Of course, movies alone can't change the world. But the people who watch them can. So following May 10, 2008, Pangea Day organizers will facilitate community-building activities around the world by connecting inspired viewers with numerous organizations that are already doing groundbreaking work."
For more information you can visit www.pangeaday.org
Or call Mehdi Yousef-Zadeh at 778-889-2075