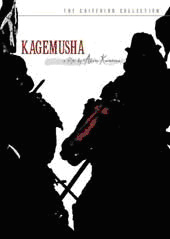 Arts Review at Zavieh
February 17, 2007
(The Shadow Warrior)
(1980)
Director: Akira Kurosawa
Kagemusha centers on the Takeda clan, one of three warlord clans battling for control of Japan at the end of the feudal period. When Lord Shingen (Tatsuya Nakadai), head of the Takeda clan, is mortally wounded in battle and near death, he orders that his death be kept secret and that his "kagemusha"--or "shadow warrior"--take his place for a period of three years to prevent clan disruption and enemy takeover. The identical double is a petty thief (also played by Nakadai) spared from execution due to his uncanny resemblance to Lord Shingen--but his true identity cannot prevent the tides of fate from rising over the Takeda clan in a climactic scene of battlefield devastation.
When: Sunday February 17. 2008
Start: 3:30 PM